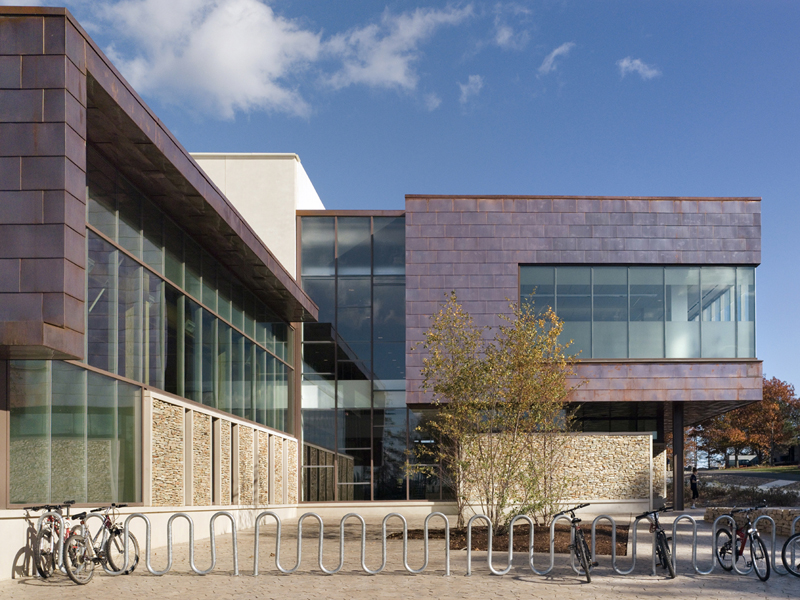 UMaine New Balance Recreation Center
The 86,000 square foot New Balance Student Recreation Center features a three-court gymnasium, MAC, weights and cardiovascular fitness, flexible multipurpose rooms, 1/10-mile track, natatorium, convertible squash courts, outdoor program, and support spaces.
After a two-day design workshop with students, faculty and staff, it was decided that the recreation center should transform the University's aesthetic mission to recognize a contemporary design vision while incorporating a palette of natural materials. The contemporary building's exterior palette of copper panels, dry-set stone and extensive glazing harmonizes with the natural wooded setting. The use of an exposed glu-laminated structure, wood paneling and stone in the interior echo the natural, organic ambiance.
Inside, this is the place to "see and be seen." From the entry lobby and throughout the facility, views are afforded from program space to program space, revealing the available activities from every vantage point. Wayfinding is very legible and fully understood. The fitness spaces and studio spaces benefit from views to the outside and within, and are flooded with daylight.
Designed to require little maintenance, to be highly durable and energy efficient, the building incorporates sun-control devices, heat recovery systems, recyclable materials, recycled water systems and daylight-harvesting. The building is LEED Certified Silver.
This project received an AIA Honor Award.
FRIEDSON STUDIO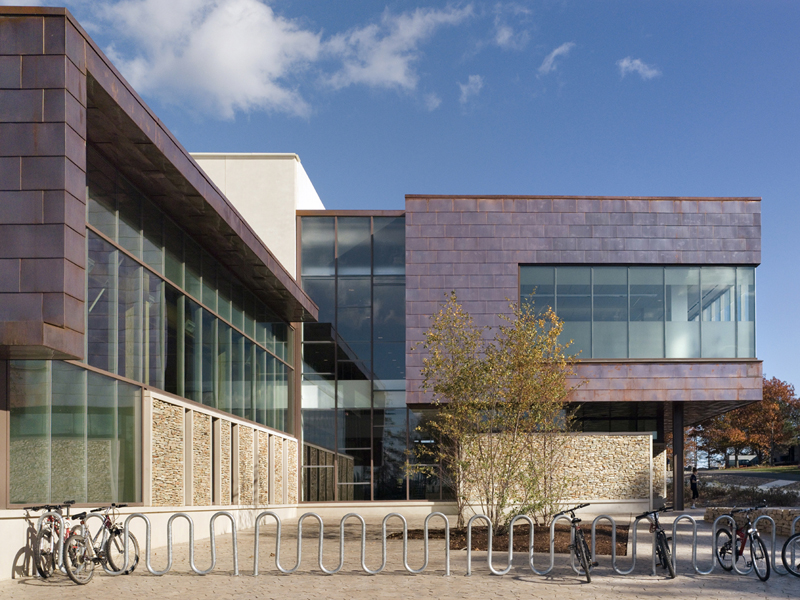 Credits
PIC/Design Principal: Richard Benton Friedson, FAIA
Photography: Anton Grassl, Esto
Association: Cannon Design